Free independent contractor invoice template word and excel: If you work for yourself, you know that getting paid is a big deal. One way to ensure you get your cash is by utilizing an independent contractor invoice. The good news? You can find free templates for this in Word and Excel. Let's dive into it!
What is an Independent Contractor Invoice Template?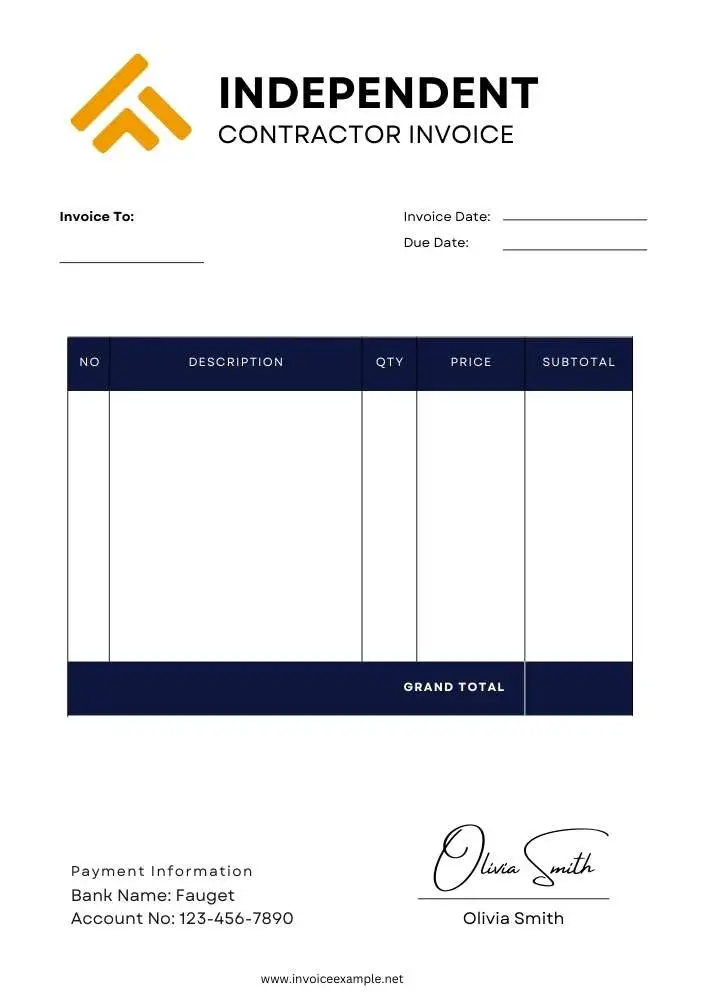 An independent contractor invoice template is like a form you fill out to ask for your money after you do a job. It's special because it's just for people who work for themselves, like freelancers. It's not like other invoices that are for bigger businesses.
Why Choose Word or Excel for Your Invoice?
Why use Word or Excel? With Word, you can write and design easily. With Excel, you can do quick math to add up your charges.
Benefits of Using Word for Invoicing
Ease of Use

: Microsoft Word is very user-friendly. Most people are familiar with its basic functions.

Customization

: It is easy customization of fonts, colors, and layouts. You can also easily add your business logo.

Templates

: Word offers many templates that you can use as a starting point, saving you time.
Benefits of Using Excel for Invoicing
Automatic Calculations

: Excel's major advantage is its ability to do automatic calculations. If you have multiple items and rates, Excel can calculate the total for you.

Data Organization

: With Excel, you can easily sort and filter data. It can be handy for tracking multiple invoices or items.

Professional Look

: Like Word, Excel also offers various templates that give an experienced look.
Comparison Between Word and Excel Invoice Templates
Do you want to make an invoice but need help deciding between Word and Excel? No worries! Let's look at how they're different so you can pick the best one for you.
Easy to Use
Word

: If you like simple stuff, It is good for you. You can write and set things up easily.

Excel

: This one's good if you're okay with grids and numbers. But it might take some time to learn.
Make It Your Own
Word

: You can add pictures or change the way words look. But it only does a little with numbers.

Excel

: You can do more stuff, like adding up numbers automatically. But it has fewer fun designs.
Looks
Word

: You can make it look really nice with fun fonts and colors.

Excel

: It's more about the numbers, so that it might look more casual.
What Can It Do?
Word

: Good for simple invoices. You can list items and their prices in a basic way.

Excel

: Great if you have lots of numbers to add or sort. It can even do the math for you!
Features of a Good Independent Contractor Invoice Template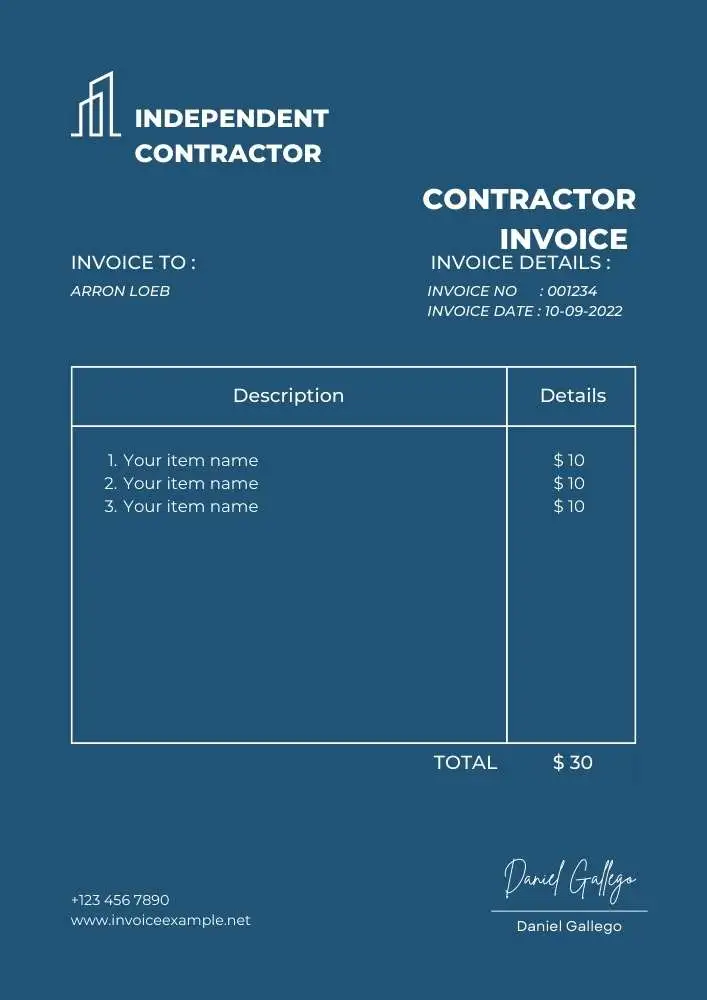 Creating a good invoice is really important if you work for yourself. A great invoice helps you get paid and makes you look like a pro. Let's talk about what you should put on your invoice. We'll also look at how Word and Excel can help make your invoice just right.
What Should Be On Your Invoice?
Your Info

: Put your name and how people can contact you at the top. 

Client Info

: Write down who you are billing. Put their name and contact details so your invoice goes to the right person.

Invoice Number and Date

: Always put an invoice number and the date. It allows you and your buyers to keep track of payments.

List of Work Done

: Say what you did and how much it cost. It can be a list of each job or item, its price, and any extra costs like taxes.

How Much to Pay

: Clearly say how much the client needs to pay. Also, say how you want to get paid, like through an online payment or a check.

Extra Notes

: You can add more details at the bottom. It can include late fees or other important info.
How to Make Your Invoice Special with Word and Excel
Word and Excel Are Your Friends
Word and Excel are great for making invoices. Both let you make changes to your invoice, look, and work just how you want. Here's how:
Add Your Logo

: You can put your logo at the top. It makes it look really professional.

Change How It Looks

: You can pick new fonts and colors in both Word and Excel. It lets you make the invoice look like the rest of your business stuff.

Move Things Around

: Don't like where something is? You can move things to different spots in both Word and Excel.

Do the Math for You

: If you use Excel, it can add up numbers for you. It makes it super easy to get the total amount right.
Where to Find Free Invoice Templates for Independent Contractors
Looking for a free independent contractor invoice template? You're in luck! Both Word and Excel formats offer a variety of options to help you get started. Here's where you can find them:
Websites Offering Free Templates
Microsoft Office Website

: They have free templates for both Word and Excel. 

Template Websites

: Places like Template.net or Hloom have lots of free options. 

Freelancing Websites

: Websites like Upwork have free templates for people who do jobs on their own. 
Software with Free Templates
Google Docs and Sheets

: If you don't use Microsoft, Google Docs and Sheets have free templates, too. 

OpenOffice

: This is another free choice if you don't want to use Microsoft. 
Online Accounting Tools
FreshBooks or QuickBooks: These tools help you keep track of your money. They have free trials, so you can try them before you buy. 
Community Platforms
Reddit

: Look for subreddits like r/freelance, where people share free stuff.

LinkedIn

: Some LinkedIn groups for people who work on their own also share free templates.
Customization Tips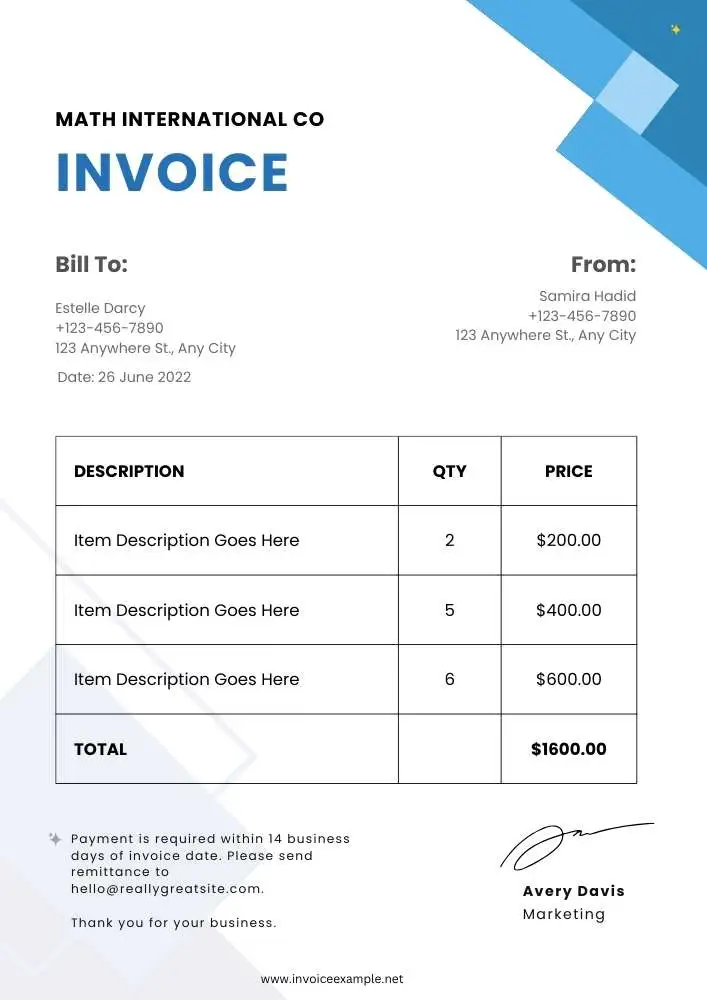 Making an invoice that shows off your business is a great idea. Here are some tips to make your invoice really special.
Easy Steps to Personalize Your Invoice Template
Your Logo: The first thing people see is your logo. Adding a logo makes your invoice look more professional. In Word, you can just drag your logo into the document. In Excel, go to 'Insert,' and then choose 'Pictures.'
Fonts and Colors: Make your invoice look like the rest of your business stuff. Change the fonts and colors to match your style. In both Word and Excel, you can find these options in the 'Home' tab.
Payment Terms: You should say how you want to get paid and how long they have to pay you. Add a section for this near the bottom of your invoice. Make it clear so people know what to do.
Extra Notes: Sometimes you need to add more info. It could be about late fees or other special rules. Put this info at the bottom in a 'Notes' section.
Adding More Elements
Here are how to add elements like logo, payment terms, etc:
Contact Info: Make it easy for people to reach you. Add your phone number, email, and your website.
Discounts or Coupons: If you offer discounts or special deals, make a spot for them.
Thank You Note: Saying thank you is a nice touch. It shows you value your client. Just a simple "Thank you for your business!" at the bottom can make a big difference.
Legal Considerations
When you're making an invoice, it's not just about asking for money. You also have to follow the law. Here are some things you need to make sure to include in your invoice.
Must-Have Legal Stuff
Legal Stuff You Need on Your Invoice
Your Name and Where You Live
Put your full name and address. It's the law, and it shows the bill is from you.
Who You Worked For
Write down the client's name and address. It is also something the law says you have to do.
A Unique Number
Each bill needs its number. It helps you keep track and is a legal must-have.
When You Worked
Tell me the date you did the work. The law says you need this.
How to Pay You
Say how long the client has to pay you. It could be in 30 days or right away. Just make it easy to understand.
What You Did
List all the tasks you did or things you sold. The more you tell, the better. And yes, it's a law thing.
The Full Price
Make sure to show the total cost clearly. Add all the small costs to get this number.
Taxes
If you charge tax, show how much. It is another thing the law says you need.
How to Keep It Legal
Always double-check that all the info is right. A mistake could be a big problem later.
Keep a copy of every invoice you send. It is important for your records and could be a big help if there is a legal problem later.
Best Practices for Saving and Sending Invoices
Creating an invoice is just one part of the job. Saving and sending it the right way is just as important.
Saving Your Invoices
Pick a Good Name: When you save the file, give it a name that makes sense.
Use Folders: Create a special folder on your computer just for invoices. You can even make sub-folders for each client or each month.
Back It Up: Always have a backup of your invoices. It can be on an external hard drive, or you can use cloud storage like Google Drive.
Save as PDF: This is a good idea because PDFs can be opened on almost any device, and they look the same everywhere.
Sending Your Invoices
Email is Easy: Most people send invoices through email. It's quick, and you can be sure the client got it. Just attach the invoice as a PDF.
Use Software: Some people use special invoicing software that tracks when a client looks at an invoice. It can be super helpful.
Snail Mail or Hand Delivery: You can print out the invoice and mail it. Or you could even hand it over in person.
Confirm Receipt: No matter how you send it, always make sure the client gets the invoice. You can ask them to let you know when they get it.
Conclusion
So, there you have it! Using a free independent contractor invoice template in Word or Excel makes your life easier. It helps you look professional and makes sure you remember all important info.
LSI Keywords: Independent contractor invoicing, Word and Excel invoice templates
FAQs About Independent Contractor Invoice Templates
Can I Customize My Invoice?
Absolutely! Most templates let you add your logo, change colors, and even rearrange the layout to suit your needs.
How Do I Send My Invoice?
You can send your invoice by email, regular mail, or even hand it to your client in person. Some people use invoicing software that can send and track invoices for you.
Do I Need to Save Copies of My Invoices?
Yes, it's a good idea to keep a copy of every invoice you send. It can help you with your taxes and is good to have in case of any payment issues.
Are There Legal Requirements for Invoices?
Yes, your invoice should meet any legal requirements in your area. It might include things like your tax ID number or a specific format for the invoice number.
What If My Client Doesn't Pay?
If a client doesn't pay, you might have to send them a reminder or even take legal steps. It's always good to talk about payment terms before you start a job to avoid this issue.
Can I Use the Same Template for Different Clients?
Yes, you can use the same template for different clients. Just make sure to customize it for each one so it includes the right information.
Should the Invoice Be in Word or Excel?
Both Word and Excel have good templates for invoices. Word is easy for making simple invoices, and Excel has features that can do the math for you. Choose what works best for you.